Spring blossoms are bursting alive, my neighbourhood streets blanketed with Springs early blossoms, their timid delicate faces reminding me; even though it's a wee bit cold in the shade - Spring is performing her magic regardless of the chill, nothing will stop her from transforming the ordinary, into the life giving extraordinary.
Spring buzzes our senses alive with new life and love and it's easy to see how Spring, with her grand abundance of colour, texture, and fragrant blossom scented days, is our chosen season to celebrate love, new beginnings and Spring weddings.
There is so much to tempt and transform this Spring season, and Swish Fashion Australia is at the forefront with a fashion bouquet bursting with total gorgeousness this season. Are you ready to embrace all the gorgeousness on offer and carry your style through the ordinary and into the extraordinary.
Keep scrolling to see the top 6 curated trends on offer in store and online by Swish Fashion Australia, this season.
1. Crazy for you, gorgeous stand alone florals and crisp timeless linen.
Florals are a top trend this 2018 Spring/Summer and married with crisp and always elegant linen, the effect is timeless. 30022 Floral Linen Top.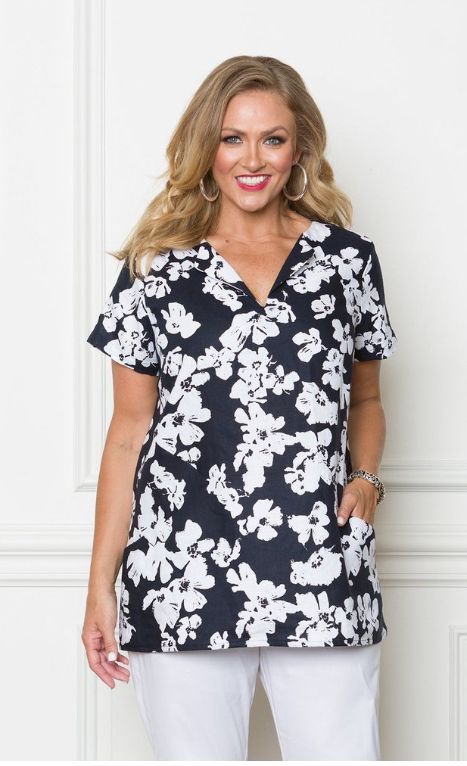 2. She's like the wind, wind swept, ocean blue. Block colour and fabulous.
Swathes of bold, block colour will sweep our runways this 2018; who can resist the irreplaceable enduring charm of bold, beautiful blues, to take you from wind swept ocean adventures/beachside weddings, or equally at home as a stand alone hue, in a towering city scape. 31026, Plain Crinkle Jacket.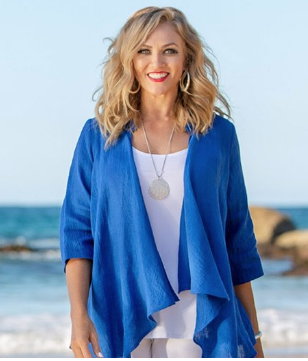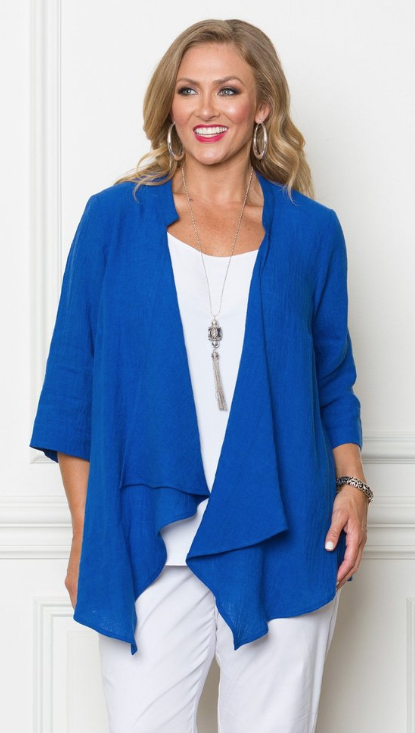 3. Always Classic, black and white, the perfect fashion team.
Ageless and forever the dynamic pairing of classic black and white - how stunning is this 30041, Contrast Flowers Top.
Update your existing wardrobes core black and white pieces by layering this piece over slim legged black or white pants.
I love a long length pencil skirt; I will team my new season black ankle boots with this top and a longline pencil skirt to add height and streamline my 5ft4 frame.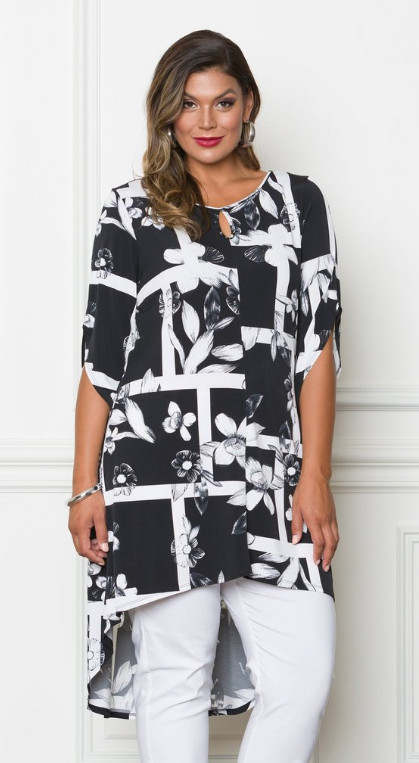 4. Take a chance on me - Another major trend for Spring/Summer 2018, Layered Stripes and jewellery for every occasion.
Swish have reimagined nautical stripes and transformed the ordinary into the extraordinary with the elegance of linen as a base.
This look harkens to the art studio heady days of Picasso and Bardot, creatives under the magic sun in the South of France. I'll channel my inner Bardot with a nude lipstick and add stacked layers of gold chain jewellery - a big trend this season.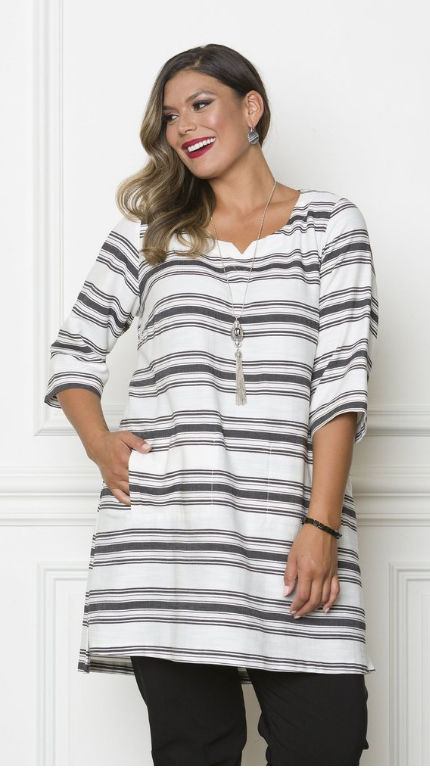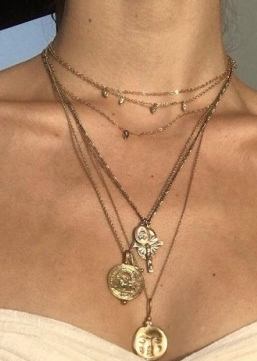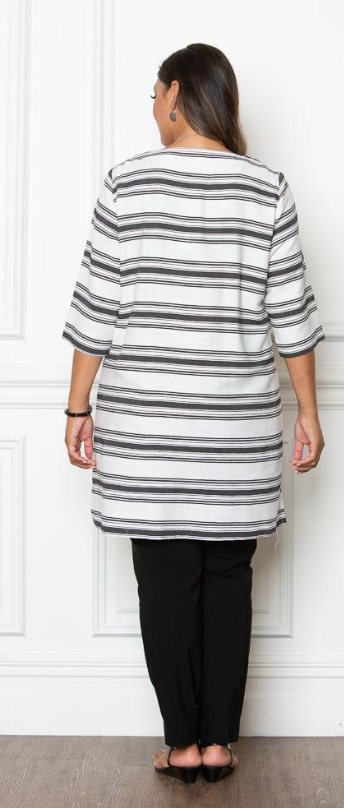 5. Graphic feminine prints - alive with colour.
Embrace the limitlessness of your inner colour maven. Update your holiday wardrobe by teaming the Colour Magic Shirt with crisp white - I love how easily this piece will roll away to consume minimum space in my suitcase - this will be the perfect travel piece for your next getaway.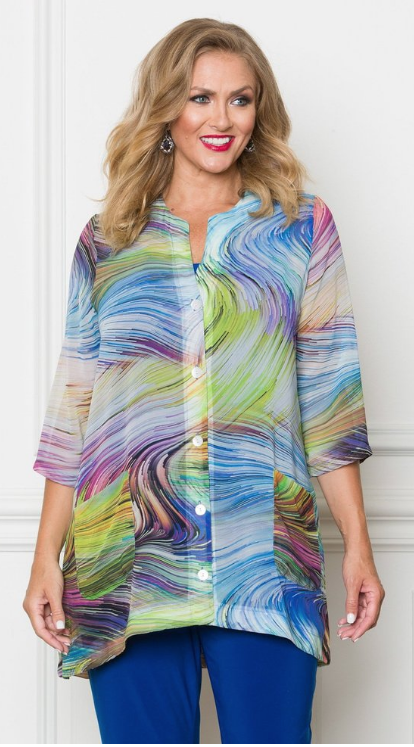 6. The one that got away. Who can resist the appeal of textured super prints on the perfect printed navy dress.
This stunning navy and ecru will be the the one that got away, a stunning navy dress is always hard to find - the 37007 Navy Puff Dress has added textural appeal, the print motif is raised with a puff art textured finish.
This dress will be perfect for any wedding guests this Spring. Dont let this dress be the One that got away.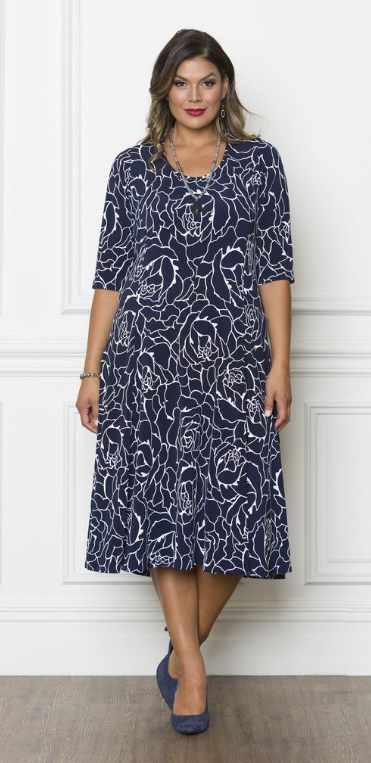 Spring/Summer 2018 is seconds away and our stores, gardens, wardrobes and Australian Springtime lifestyles are more than ready for all the gorgeousness on offer.
I love Springtime - are you ready?
Written by Simmon Wagner, a Freelance Writer, working as a Professional Movie Critic, Nationwide Australian Style Writer, Yogini and Founder of theloveauthentic, https://theloveauthentic.wordpress.com/. Curious and trained as a Journalist, Private Investigator and Fashion Designer, writing her first psychological thriller novel and creating content to tell stories about fashion, wellness, travel and inspiring friends and people.
Find me on Twitter, Instagram, Facebook, Movie Critic, Style Blogger
Topics: CurvyBodyShape, BoldBlues, Colour, Blue, Swish Fashion Trends, #springfashion, #springwedding